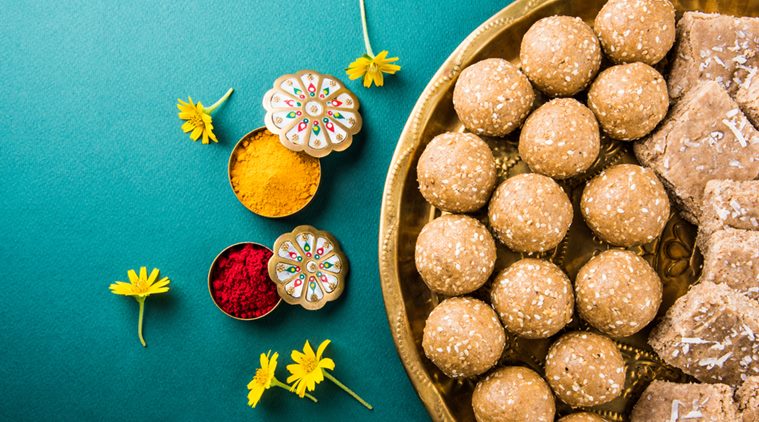 While people in the North of India call it Lohri, people in the South call it Pongal. It is celebrated as Uttarayan in Gujurat and Magh Bihu in Assam. Makar Sankranti is celebrated throughout India, and it happens to be one of the rare festivals which fall on the same day every year, all thanks to the fact that it follows the solar calendar.
Makar Sankranti signifies the end of the winter months and the beginning of longer days. It is a harvest festival that farmers celebrate with great fervour to show their gratitude for their harvest. Sweets play a big role when it comes to this harvest festival. Read along to learn about 7 Makar Sankranti sweets which you must try this year.
Rewari
Rewari is another signature sweet that you will find in every shop during Makar Sankranti. It is a popular dish, especially in Punjab and is found in every household during Lohri. Rewari is a hard candy which is made from til and coated with jaggery or sugar. It is sweet, crunchy and a perfect sweet treat to keep at your place to nibble on when you have a sugar craving. Til and jaggery are known to keep your body warm and provide energy in the winter. Hence, you can snack on these instant sweets guilt-free knowing that they are good for you.
Gokul Pithe
Gokul pithe is an authentic Bengali dish which is so sugary and delicious that it will leave you in a sugar daze. Gokul pithe is sweet fried dumplings which are soaked in sweet sugar syrup. The stuffing inside the dumplings or pithe consists of coconut and jaggery. People who love gulab jamuns and rasagulla must try indulging in this signature Bengali dessert as it is quite similar to these popular Bengali desserts.
Atta Halwa
Atta halwa is gooey, nutrient-dense and the perfect comfort food that you can enjoy during the winter months. The two primary ingredients that you will need to whip this dessert are Aashirvaad Atta and jaggery. Typically, people add cashew, almonds, walnuts and a pinch of cardamom powder to the atta halwa to add more flavour to this delicacy.
Til Laddoo
Til laddoo is an iconic Makar Sankranti recipe that is synonymous with the festival. Made from the goodness of sesame or til, jaggery and desi ghee, this sweet treat is nutrient dense and a perfect sweet treat to indulge in to keep your body warm and cosy while it is still chilly outside during January.
Murmura Chikki
Murmura chikki are rice puff chikki made using ghee. People who are not a big fan of the classic peanut chikki can try opting for murmura chikki. To make your murmura chikki healthier, you can add almonds, cashews, dates, sesame seeds, pumpkin seeds and cardamom powder to the recipe. Visit the ITC store to get the best chakki atta price ever.
Peanut Chikki
Peanut chikki is another Makar Sankranti sweet that you don't want to miss out on. It is made using only three ingredients- peanuts, jaggery and butter. It is sweet, crunchy and light. You can make a batch of these chikki and save them in an airtight container to enjoy in the cold months. They are easy to make, and the best part is that you can nibble on them in between your meals or have them in the morning as a breakfast bar when you are running late and want a healthy on-the-go snack.
Murmura Laddoo
You might have seen them in sweet shops or local grocery stores during Makar Sankranti. They are light, sweet and crunchy. The best thing about this sweet treat is that it is easy to make and doesn't require a lot of preparation. All you got to do is heat a pan and bring jaggery to a boil and then add rice puffs and turn off the stove after a few minutes. After the mixture cools down, make round laddoos and keep them on a tray for them to completely cool off before you store them in an air-tight container.
So, which of these sweets are you planning to serve your friends and family this Makar Sankranti? Head over to the ITC store to grab all the essential ingredients you will require to make Makar Sankranti sweets