TAYLORS — Sunny sleeping spots, country music and the occasional slice of pizza have helped a pooch in Taylors reach her 22nd birthday.
All that, plus a lot of love from owners Julie and Bobby Gregory, have made Pebbles possibly the world's most senior living canine. She was dubbed so by the Guinness Book of World Records, dethroning a 21-year-old chihuahua in Florida named TobyKeith who took the title in March.
For the 4-pound toy fox terrier's latest birthday celebration, she enjoyed a bone-shaped cake and takeout ribs, all while wearing a puffy pink and purple dress.
Pebbles' story began in 2000 when Bobby and Julie still lived in Long Island, N.Y. Bobby set off with the strict intentions of getting a rottweiler — a stocky, black-and-tan breed that can grow to more than 100 pounds. He wanted a pet to protect the home. 
He passed by a fishbowl-looking cage where many puppies slept. One kept jumping around, barking and knocking into the others.
"Literally everything to get my attention," he remembered.
Pebbles had a home. Bobby joked that she picked him.
Pebbles moved to Taylors with the rest of the Gregory family in 2007. They love the Upstate.
"She's got a bigger yard here," Bobby said. 
Pebbles hasn't been the family's only pet. Two weeks after she came home, they "found her husband," Bobby said. 
Rocky, also a toy fox terrier, and Pebbles had three litters totaling 24 puppies. Rocky passed away at 16.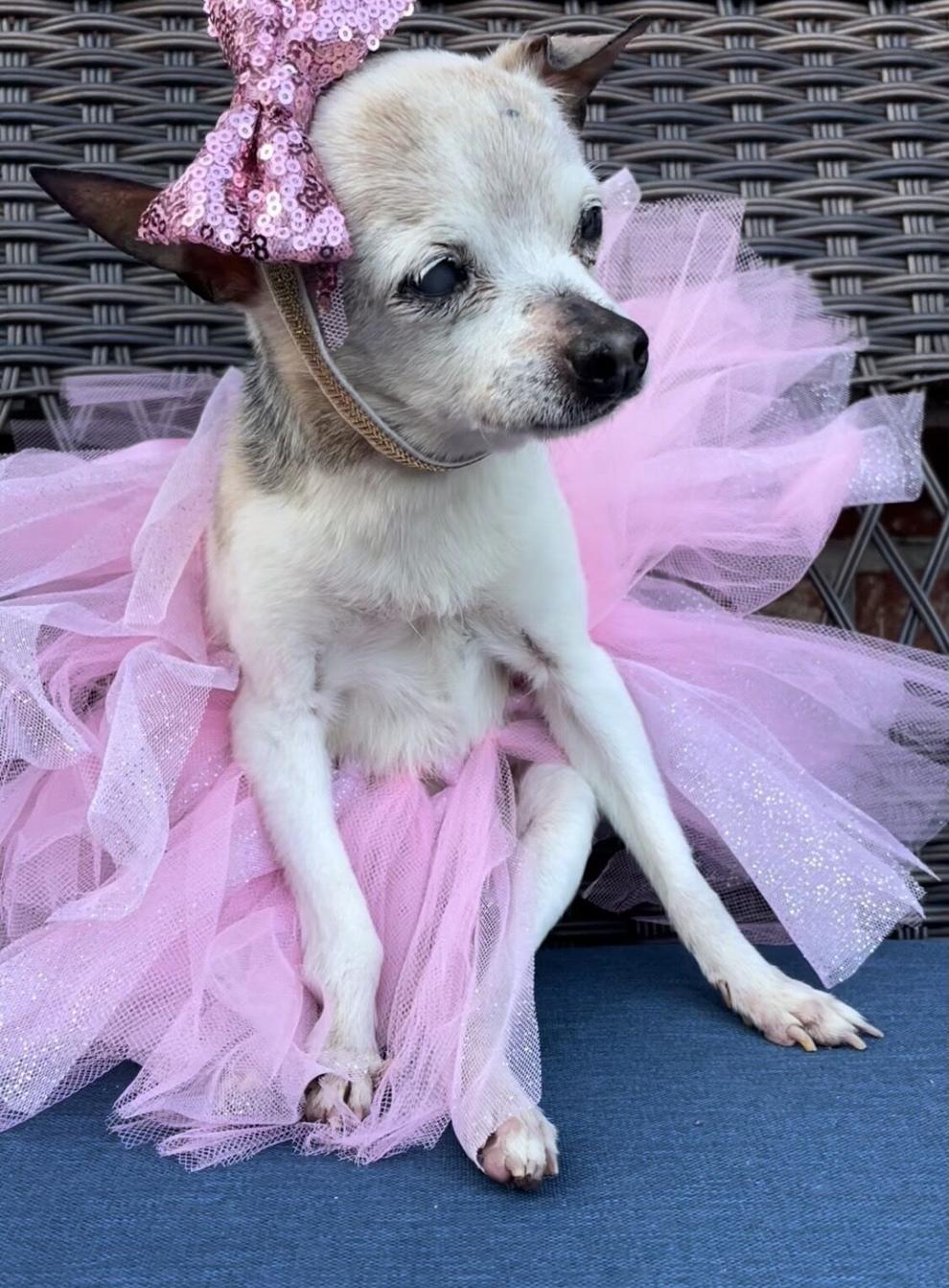 Pebbles mostly eats a cat food diet but also enjoys people food like scrambled eggs and chicken nuggets. She will eat the occasional slice of pizza — cheese first, then sauce before nibbling away at the bread. The most Julie has seen her eat is two slices.
Her daily routine involves sleeping in a patch of sun. Bobby described her as more nocturnal, running around in the evenings. Julie turns on a local country station before heading to work — sleeping music for Pebbles.
"It's funny because if I shut it off, she'll wake up and kind of look around like, 'Why did you do that?'" Julie said.
The pup has been in the limelight since the record recognition. Pebbles' Instagram receives hundreds of direct messages and the family has done a handful of interviews, including one for an Australian game show. 
The Gregorys laugh at having a dog with a newfound status, mostly because Pebbles has no idea she is famous. At the end of the day, she is the family pet. For all the love they give her, they have felt it back.
"We're just grateful for her," Bobby said. 
Follow Stephanie Mirah on Twitter @stephaniemirah